Skip to Content
Galvanized Chain Link Fences
For over three decades, Oconee Fence has built and installed galvanized chain link fences for our commercial, industrial, and residential customers in Oconee County, South Carolina and the surrounding areas. Chain link is galvanized and comes standard in 4-foot, 5-foot, and 6-foot heights and a great application to add more privacy and security to your property. The standard gauge for residential chain link fences is 11 ½ gauge, while commercial comes standard at 9 gauge. Some applications require a top rail, and some do not, depending on your needs. Posts are anchored in concrete. Our chain link fencing is available in black, green, and brown colors. If your fence is needed to offer more privacy to remove visibility, adding additional color slats and fabrics to chain link is an option to consider.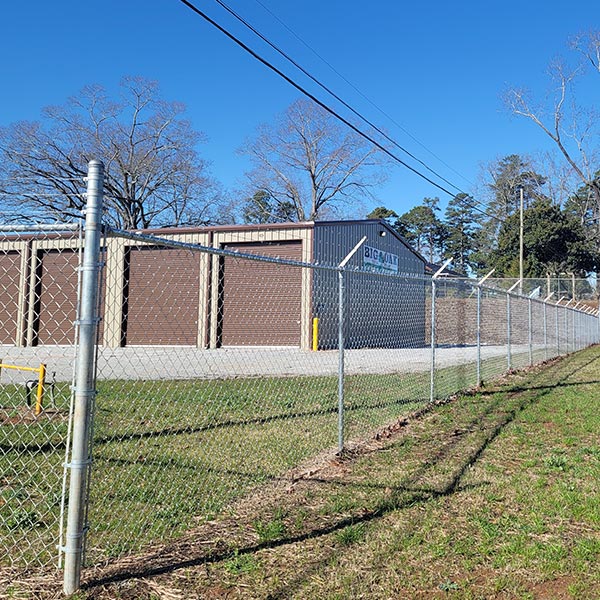 The Benefits of Chain Link Fencing
Chain link fencing is one of the most common forms of fences, and for many great reasons. The simplicity and affordability of galvanized chain link material make it a very popular choice for many fence projects. Chain link fencing is a perfect way to add more security and privacy without the hassle of regular maintenance. Our expert fence contractors can install your new chain link fence with ease and precision, and since the chain link material is galvanized, your fence will avoid rusting and damage from hard conditions for many years. When planning a new fence project, galvanized chain link is an incredibly affordable option to consider.
The Name You Can Trust for Top Quality Fences
Oconee Fence has built a distinguished reputation as one of the most trusted fence contractors in the Oconee County region. Our installation process is never a one-size-fits-all approach – we're highly trained and capable of providing our customers with the custom solutions they need to fit their exact fencing needs. For the highest degree of service, craftsmanship, and professionalism, contact us today and discover how we can install the perfect fence custom-built for your property.
Where Quality and Professionalism Make the Difference