Skip to Content
Custom-Built Ornamental Steel Fencing
For the highest quality and durability in ornamental steel fencing, choose the tenured experts at Oconee Fence. We have provided custom-built wrought iron gates to property owners in Oconee County, South Carolina and the surrounding communities for over 35 years. If you need to complement and enhance your landscape while adding more privacy and security, wrought iron/steel options may be your perfect solution for a custom style. Partnering with our professional fencing contractors means you'll have a brilliantly constructed steel enclosure for the most affordable price.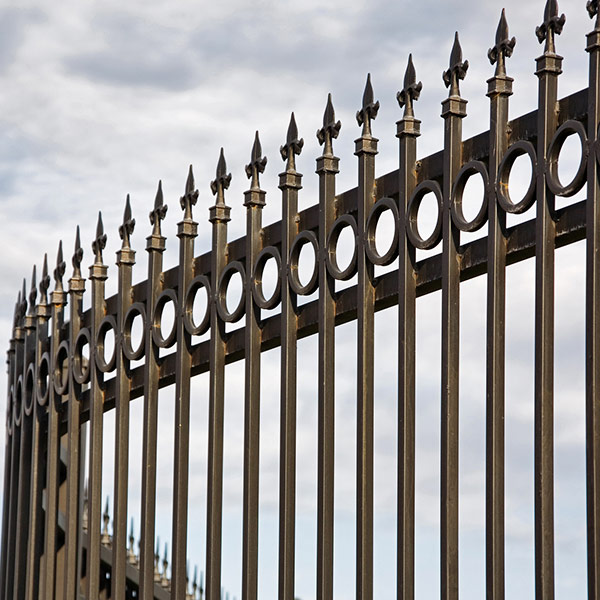 The Advantages of Fencing Made From Steel
There are many undeniable advantages you can gain that will add immense value and curb appeal to your property by choosing steel for your ornamental fencing project. The versatility of steel allows for an impressive array of possibilities for a truly custom look to your landscape. Scrolls, rings, finials, arches, and monograms are just some of the choices available from our wide selection of ornamental steel fencing options. Steel's superior durability compared to other materials means your new fence won't require much maintenance while lasting for many years to come. Finished steel has the capability to maintain its integrity for decades without rusting. By opting for an aesthetically-pleasing steel fence from Oconee Fence, you'll gain the long-lasting benefits we are able to provide for your property.
Choose the Best in the Fencing Business
The quality, service, and professionalism you'll receive from Oconee Fence have been Oconee County's unrivaled solution for fence and gate projects since 1985. For over three decades, we have designed, fabricated, and installed world-class fences and gates to serve a wide variety of applications for our commercial, industrial, and residential customers. Our team of fencing professionals are extensively experienced, fully insured, and highly capable of completing your next fence or gate project, no matter how small or complex the job. Choose the best in the fencing business – contact us today to receive a free consultation and estimate.
Where Quality and Professionalism Make the Difference