Skip to Content
Vinyl Chain Link Fences
Fences made of vinyl chain link are a quick and easy way to create a secure and highly durable barrier around your property. For over 35 years, Oconee Fence has been Oconee County, South Carolina and the surrounding region's dependable choice for the highest quality chain link fences. Vinyl fencing is a color-coated chain link application, available in brown, green, and black. Black vinyl fencing is an excellent choice for a fence that disappears into the landscape. Vinyl is ideal when the strength and security of chain link fencing is needed, but galvanized chain link is too commercial. Learn more today to discover how vinyl chain link can be the perfect solution to your fencing project.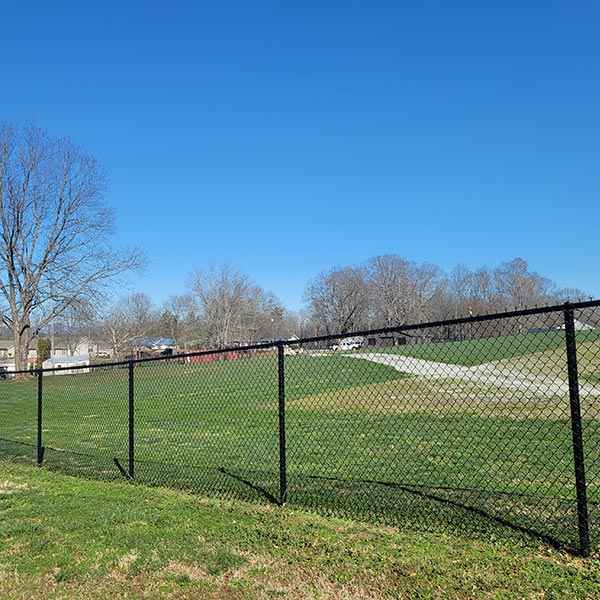 The Many Benefits of Vinyl Chain Link Fences
Chain link fences made with vinyl have similar characteristics and benefits as galvanized chain link fences. They are both made from metal, but the primary difference is galvanized chain link is usually coated with zinc, while vinyl chain link is coated in a synthetic resin or plastic polymer. Vinyl chain link's coating is used to protect the metal underneath from the outdoor elements, adding a better degree of durability. The maintenance required for vinyl chain link fences is minimal, and when compared to other fence materials, vinyl chain link is one of the least expensive options. Since it is highly affordable and much quicker to install than other types of fences, vinyl chain link is among the most popular when choosing strong, secure fencing.
Choose Oconee Fence for Your Next Fencing Project
Our team of extensively experienced fencing contractors is the resource you can trust for durable vinyl chain link fencing at an affordable price. Since 1985, Oconee Fence has installed quality chain link fences for our commercial and residential customers that are custom-built for their property. If you are considering a new fence project, we have the expertise to get the job done correctly and provide you with long-lasting benefits, regardless of scope or complexity. Contact us today about our vinyl chain link fencing and discover how we can add more security to your property.
Where Quality and Professionalism Make the Difference